Healed by horses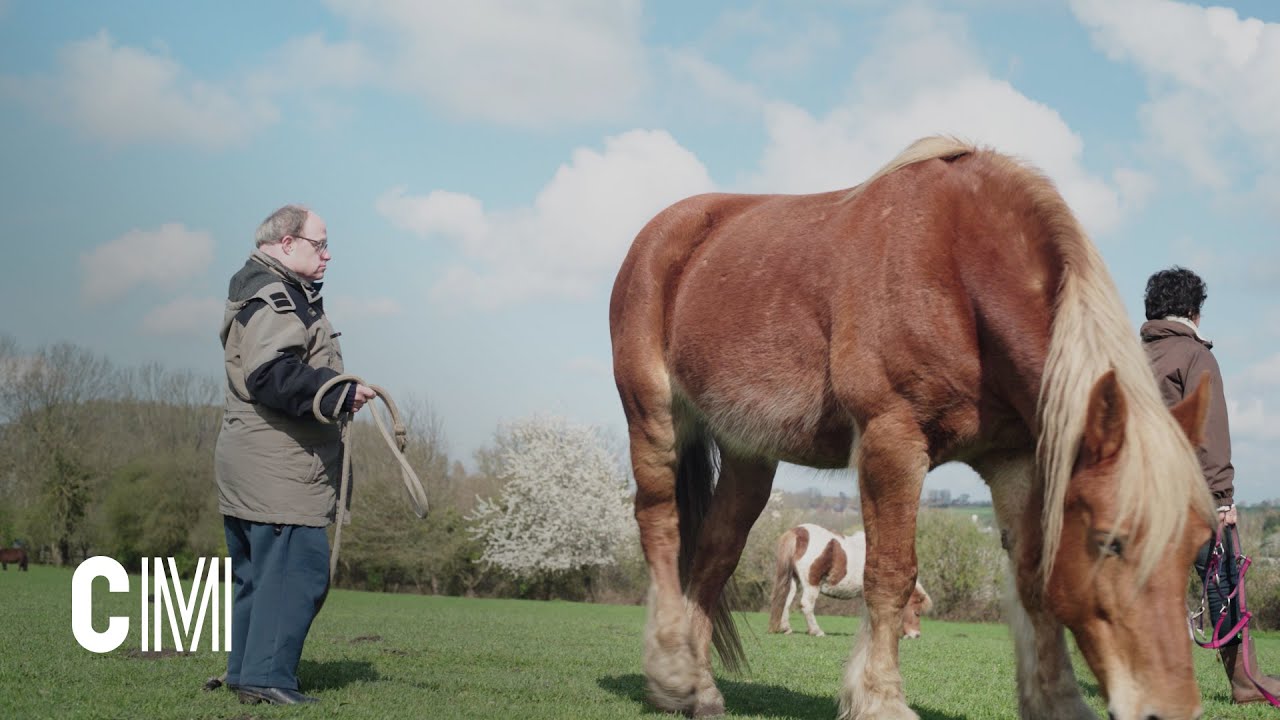 Le Bonheur dans le pré, Fontaine-l'Evêque
Nestling in the midst of natural beauty, Le Bonheur dans le pré is a healing and well-being centre unlike any other. Here, healing is achieved by enabling people to connect with horses. This therapeutic approach with a difference is aimed at people such as children in need or adults who got lost somewhere along the way.
In her bucolic paradise, Marie-Noëlle Baudoux welcomes people from all walks of life. They include people with mental and/or physical disabilities, children in need or adults trying to find themselves. Along with her team, Marie-Noëlle practises horse-assisted therapy to enable people to (re)gain control of their lives, themselves and overcome difficult times in life. "Between the horse and the therapist, you feel cradled and coached in a physical, relational, emotional sense, at ease with yourself and your own conscience, on the path towards self-expression and being who you really are."
Obviously, it's not the horse that delivers the care, but the care is delivered through the horse.
The sessions can be one-on-one or group sessions. In equine therapy, as a living being the horse becomes the medium to reach out to the individual: the horse is the mediator. The duration and conduct of the encounter are established in consideration of the needs of every partner, including the horse. As such, people should not expect to find a saddled horse ready to be mounted when visiting Le Bonheur dans le pré. "An hour of therapy does not mean that you will be spending an hour on horseback. There is a lot more to it than that."
Embracing the difference
In fact, just on the day we were shooting, the residents of the "L'Empreinte" day care service of Soleil Levant – an ACIS not-for-profit organisation in Montignies-sur-Sambre – who were visiting the centre did not mount any horses at all. During their group session, they spent time with a horse, only differently. "The session starts as soon as they step inside the centre." After putting on their boots, Christophe, Rudy and Benoît made their way to the paddock to meet and connect with the horses. "I leave the clients to go out to see the animals at their own pace. It's important they take their time to go and say hello and to let the animals come to them", Marie-Noëlle explains.
"I adapt my sessions to the wishes, preferences and the mood of each individual."
Clients who come to the centre are allowed to mount their designated horse if they are also happy to brush the animal, clean its hooves or simply stroke the horse. As the clients of L'Empreinte have been visiting the centre for several years, they have forged bonds with the animals. Which explains why Christophe almost instinctively walked over to Marley to greet and stroke him and simply spend time around him. "Everybody has his preferred animal, which is the horse best suited to him or her in terms of behaviour and character", Tifany Janssens explains, who is a specialist educational therapist at the institution.
Positive changes on a day-to-day basis
"At the outset, he didn't want to go anywhere near the horses. At all. Now, he goes out to find them in the paddock and brings them in to the exercise yard on his own. Moreover, equine therapy proves very beneficial to people who are highly anxious by nature. Courtesy of these sessions, the clients become tranquil and are calmer when they return to the institution."
Even though she gives the clients a lot of freedom and leeway, the centre's manager is keen to make sure everybody is safe at all times. "We also teach our clients how to read the horses' body language by observing the herd, to be alive to the interactions between the animals and to spot situations that could be dangerous", Marie-Noëlle goes on to add.
Triangular relationship
Trained in horse and animal-assisted therapies, Marie-Noëlle enables her clients to work with the horses, whether as part of a therapeutic or a preventive approach. Her work revolves around a triangular relationship in which each partner – the horse, the client and the therapist – assume a specific role. This puts all three partners in a cocoon in which finding a sense of well-being comes first. In equine therapy, the animal is a genuine partner that interacts with the client, even though their communication is non-verbal. It is a way of nurturing yourself, a form of stress relief that takes the weight off by reconnecting with other living beings.
Reconnecting with yourself through the horse
Equine therapy is a therapeutic approach that is also used for adults in search of a sense of well-being. In this respect, working with horses is a way of reconnecting with yourself, of getting to know yourself better and of dealing with your emotions. Le Bonheur dans le pré welcomes people who are grappling with profound questions about the meaning of life. Adopting an approach that centres around caring and the readiness to listen to clients' stories and needs, the therapist and the horse guide and support people in need through sensorial stimulation. Through touch, smell, hearing and sight, the animals firmly embed us in the "here and now". People who have lost their bearings and feel adrift build up their confidence by getting to know and establishing their own potential, abilities and limits.
A happy menagerie
In addition to the horses, the centre is also home to a series of small domestic animals: dogs, rabbits, guinea pigs, cats and chickens are all part of this happy menagerie. "They have so much to offer us: they give us affection, help us feel useful, get more active, they enable us to forge bonds and feel connected with our living environment", Marie-Noëlle likes to remind people, and with passion. "Doing an internship at Le Bonheur dans le pré means reconnecting with the natural rhythm of time, living in the great outdoors at the pace of the animals." In a nutshell, it's going back to basics, to what really matters.
The centre is also open to healthcare professionals as it provides training courses in stretching and horse massage. The aim is to learn how to engage in dialogue with your horse and to listen to the animal through touch to become aware of your own tensions.
Contact:
Le Bonheur dans le pré
Rue Emile Vandervelde, 352
6141 Forchies-la-Marche
+32 (0)497 47 38 31
www.lebonheurdanslepre.be
©Video/Reed & Jérôme Gobin