The potters showing the Ikea generation how it's done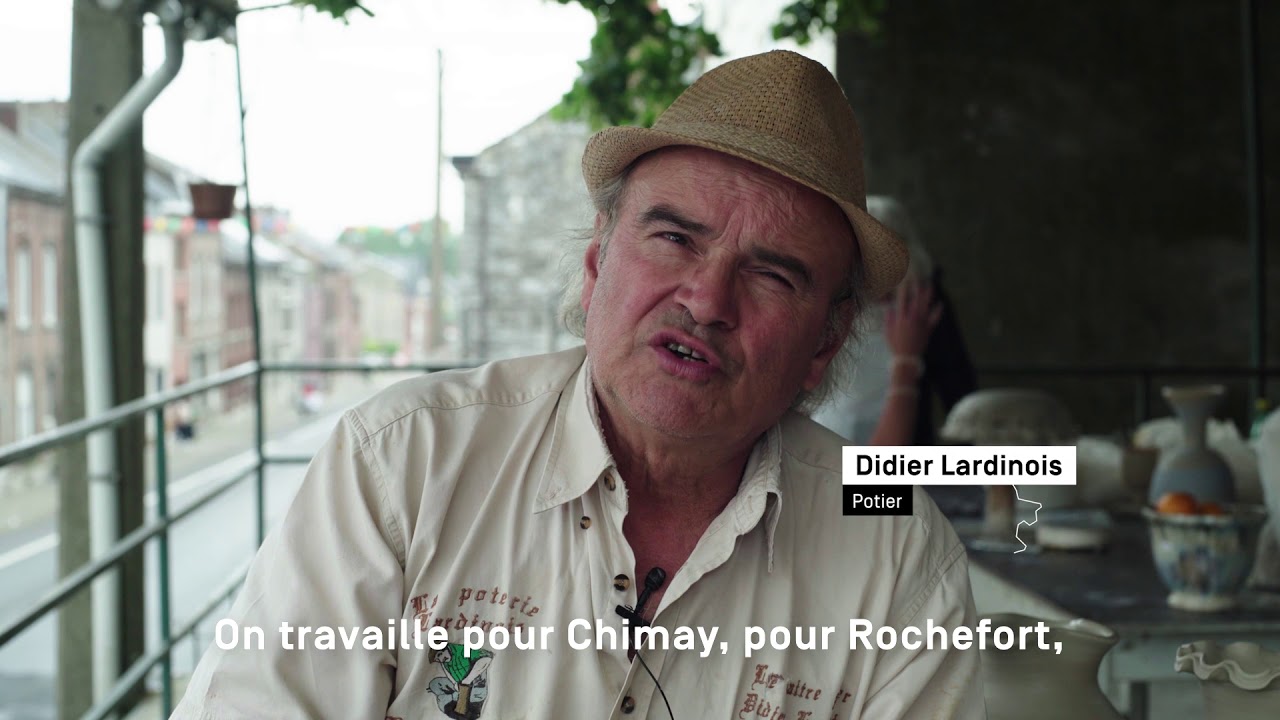 Pottery, Châtelet
In this village, which has been internationally renowned for its pottery for over 7 centuries, artisans take care to preserve the unique aspect of each and every piece when producing the crockery of the future.
It should first be noted that Bouffioulx pottery is made using local resources, with salt-fired ceramic. The earth comes from Belgium and Germany, is worked by hand and fired just once, at a high temperature.
During firing, when the kiln reaches 1,260 degrees, handfuls of sea salt are thrown inside. This gives off a gas which makes the crockery shine. "It's not only the raw materials that are natural, but the waste is completely recyclable," explains Didier Lardinois, a potter for 49 years. "When a pot smashes or breaks, we recast it and it can then be used again."
Furthermore, unlike porcelain or earthenware, working with salt glazing only requires 12 hours of firing. This limits the energy consumed during this stage.
The pots can withstand even the most powerful acid
Pots for many uses
Whilst formerly many pots were used for decorative purposes, pottery is now used every day. Mugs, especially, have enjoyed a lot of success. "With waste reduction, especially plastic, many companies are turning to pottery. They ask, for example, for attractive coffee cups to be designed emblazoned with the company logo, so that they don't need to use disposable crockery," explains Didier Lardinois.
There is high demand in the hospitality industry. "I have made many glasses for Chimay and Orval. A colleague is working for Rochefort. I am currently creating chalices for Waterloo. I make 100,000 of them every year," he continues.
It should also be noted that the glaze used to make the pottery is said to be rot-proof which means that it is resistant to many liquids.  "In the previous century, stoneware pots were used for storing the acid used in developing photographs," explains Didier Lardinois. This means it has many possible uses.
Unique objects
Today, there are many potters turning their hands to ceramics. They lend their artistic flair to simple crockery, which makes the object unique. "Every piece is unique, it comes with a soul," explains potter Gwendoline Evrard. "A person who buys a piece of pottery has picked it out especially. The relationship with the object changes completely: we hold it, it is precious, we have attached a certain price to it and, most importantly, we are proud to show it off; it is a beautiful creation."
Many designers are turning towards potters for their creations. There are some very different techniques, such as the one called paper clay. "The clay is as fine as paper," she continues, "the objects are superb."
Alongside the different shapes, stoneware pottery is now available in all colours.
Objects to pass on
In times gone by, pottery was an essential part of the school curriculum. This is now no longer the case. And yet it is a means of developing many different skills including dexterity and imagination.
Youngsters are passionate about pottery. "The process of making it has many benefits and creates a different relationship to consumption. Objects become much more valuable. This is something we want to pass on to other generations."
Potters offer introductory courses throughout the year. In July of each year, the pottery festival sees the village come to life for a full weekend.
Contact: 
Poterie Lardinois
avenue E. Vandervelde, 41
6200 Bouffioulx
+32 (0)71/39.68.41
info@la-poterie-lardinois.eu
www.la-poterie-lardinois.eu
Poterie Dubois
Rue E. Hermant 20
6200 Bouffioulx
+ 32 (0) 71 38 17 61
www.poteriedubois.be
Poterie Biron
Rue de la Maladrerie, 17
6200 Châtelet
+32 (0)71/38.08.21 / +32 (0)477/46.85.25
info@poteriebiron.be
www.poteriebiron.be
Poterie silico alumineux JS- Vanespen
Facebook
©Photos et vidéos/Reed et Jérôme Gobin