How AGC transforms glass into a technological gem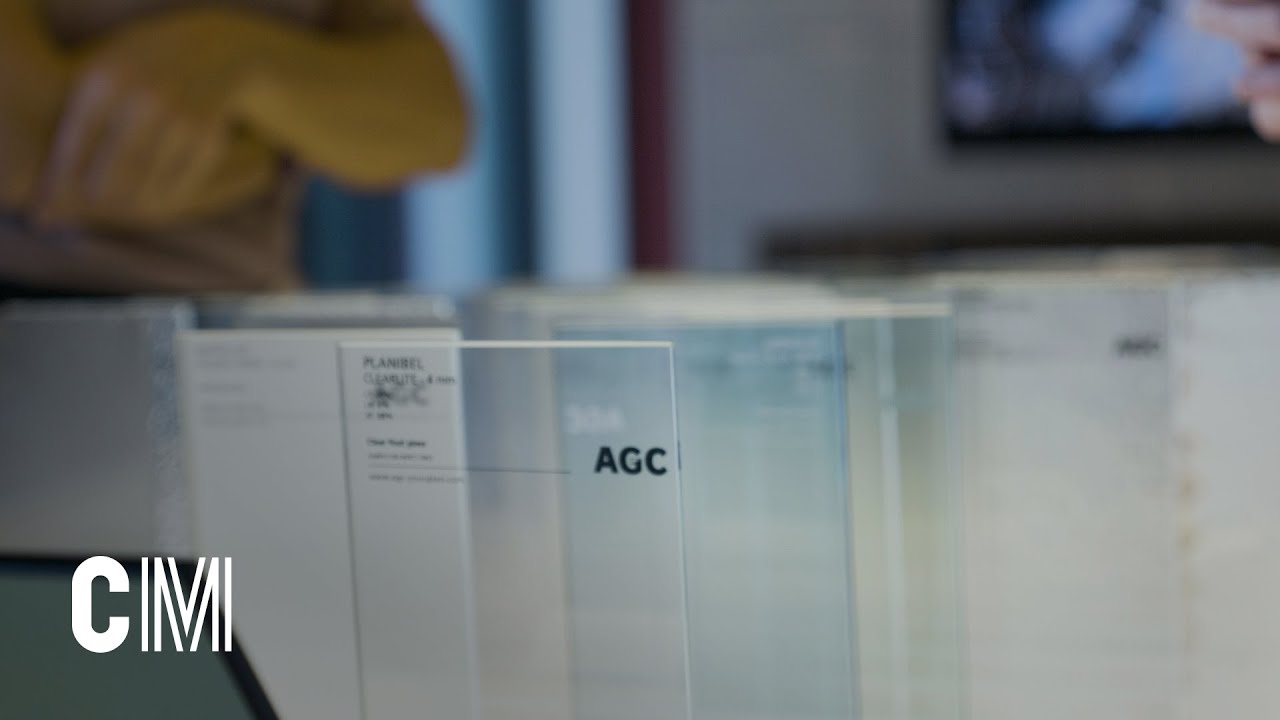 AGC, Charleroi, Fleurus, Lodelinsart, Seneffe
Imagining a glass light conductor, heating or bulletproof… some of the many challenges that launched the Technovation Center of AGC Glass Europe, based at the Biopark de Gosselies. There, 270 researchers are inventing the high-tech glass of tomorrow.
'I'm working on micro-particles that are fixed to glass.  They can't be seen by the naked eye but have extraordinary qualities', explains Nicolas Rivolta, research engineer for AGC, specialising in the manufacture of plate glass.
'For example, this enables, better thermal insulation both for cold and heat, or better visibility.  I'm simply thinking of shop windows: these particles enable you to see through the window without seeing your own reflection,' he adds.
Technological windows for increased well-being
Le verre plat est un matériau très demandé dans l'architecture d'aujourd'hui. L'enjeu est donc de le fabriquer en fonction des contraintes environnementales et contextuelles. Le verre, apprécié pour sa principale fonction de paroi transparente, est travaillé pour améliorer ses propriétés. Pour cela, AGC y posera des couches de molécules d'oxydes métalliques.
Today, plate glass is a much sought-after material in architecture. The challenge is therefore to make it according to environmental and contextual constraints. Glass, appreciated for its main function of being a transparent wall, is worked on to improve its features. To do this, AGC will fix layers of metal oxide molecules to it.
'We have been marketing variable transmission glass for a while. It turns opaque upon request or automatically.  We will be able to see this innovation at the Tour & Taxis ferry terminal', explains Benoît Ligot, corporate communication manager.
Glass is becoming a high-tech material thanks to its new features
These layers are also incorporated into car windows or different buildings. 'This glass provides solar protection, is durable and has a much appreciated aesthetic finish', he says.
The idea behind working on this glass is to improve the well-being and comfort of its users.
Light and heat glass conductor
'We are also innovating on other levels.  We have built a glass light conductor or heat generator by incorporating solar cells', continues Nicolas Rivolta. He says:  'So, the glass is not only a wall of a building but also a generator of energy, heat and electricity'.
Improved glass that then generates energy
Nanotechnology enables the glass to diffuse the light via LEDs. 'This glass panel is in high demand in communication', he says pointing at a display panel. The metal oxide layer will act as a conductor through the wall and will be connected to an electrical source.
Reflective plate glass
'I'm currently working on the features of the opaque glass designed for the biggest telescope in the world, in Chile.  AGC is looking to design a machine which manufactures reflective glass, a sort of mirror which is resistant to light and desert environments', explains Nicolas Rivolta.
I'm developing specific mirrors which will be in the biggest telescope in the world
This project was ordered by the European Southern Observatory. It will be installed at an altitude of 3,000 metres. It includes a mirror with a diameter of 19 metres which AGC will also produce. It should be ready in 2024 and will be more powerful than all of the current large ground telescopes put together.
A Charleroi Métropole flagship company
The company AGC is well established in Greater Charleroi. It has several factories in Fleurus, Seneffe and Lodelinsart. Investment in a research and innovation centre for AGC Glass Europe in the Biopark in Gosselies is a strategic choice. It enables the manufacture of new glass features in the nearby factories.
270 people of various nationalities work on-site. These include researchers, engineers, postgraduates in physics or chemistry, but also technicians to implement the various tests.
Glass is therefore still a sector of the future. High-tech, it is constantly developing. There is still a lot of potential to explore in this regard.
Contact :
AGC Technovation Centre
Rue Louis Blériot 12
6041 Charleroi
+32 (0)2 409 12 73
www.AGC-glass.eu
©Vidéo/Reed & Antoine Gualandi
****
 Sweet Corner, Nicolas' favourite for desserts
Nicolas Rivolta, from Charleroi Métropole, enjoys walking around the city before or after work.    He often goes to Sweet Corner, a tearoom selling sweet and savoury tarts which opened on rue Dampremy in Charleroi 1 year ago. 'The peanut tart is especially good', he says.
Sweet Corner sells 12 sweet tarts and 9 savoury ones to eat in or take away, in slices or as whole tarts.  There are also cupcakes, macaroons, eclairs, etc.' We have also started offering breakfast and dinner set menus', explains the manager. More and more Charleroi Métropole residents are attracted to the set menu.