TOP 5 secrets of a Michelin starred chef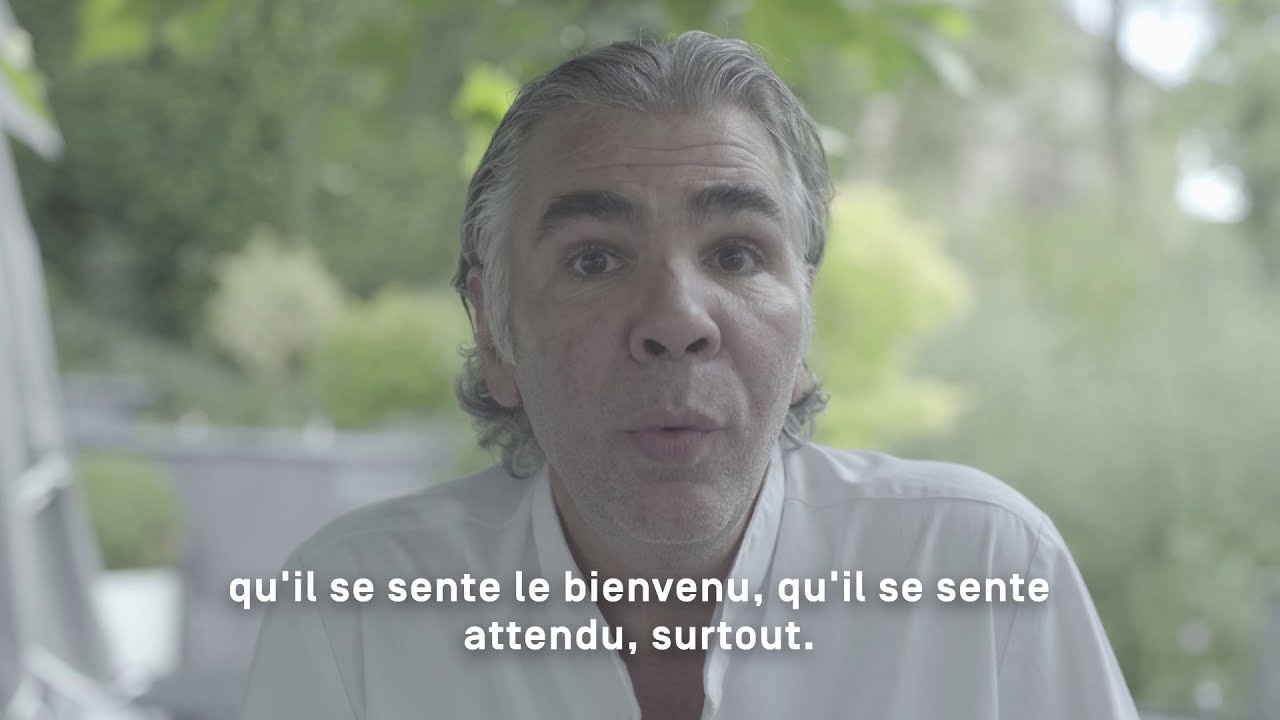 In addition to some of the interesting ideas he comes out with, when you come face to face with Vincent Gardinal you know you're in the presence of a colourful personality.
Vincent Gardinal has been chef and owner of the gastronomic restaurant Le Prieuré Saint-Géry in Beaumont since 1993. Barely 3 years after his arrival, in 1996, he was rewarded with a star in the Michelin Guide. Since then, he has continued to make a name for himself across the region with the sophisticated cuisine he serves in what he likes to call, quite simply, a "country house". He sources his ingredients from local producers.
1. Sourcing from local producers
"As a child I remember going to the farm for butter and eggs with my mother. Today, I still go to producers to hunt around for the best products," the Michelin starred chef explains. "Moreover, I still have all of these wonderful childhood memories of devouring cream made with its thick top layer of whey. I would add just a sprinkling of sugar to it and strawberries plucked from the garden: sheer bliss."
Vincent sources his ingredients from several producers. He usually buys his vegetables from Cyrille, at Tchapia Farm in Presgaux, and collects butter from the Champ du Loup Farm in Lobbes. He doesn't restrict himself to buying "only local", but with a penchant for high quality products, he sources as much as he can locally.
2. Strawberries for Christmas? Surely not!
Following the same logic of buying locally, Vincent Gardinal respects seasonal ingredients when designing his menus. "In July I cooked an Auguste Escoffier-inspired dish, back in fashion in recent times. I work with several ancient varieties of tomatoes, with Breton lobster. That's really the season for it. A delicious vinaigrette, a dash of rocket coulis and a burrata-based sorbet. All presented on an elegant platter," he explains.
Garden fruits provide a seemingly endless source of inspiration for the chef. His parents had a large vegetable garden and so he has always been immersed in the market garden universe. Preserves, tarts, waffles (with recipes handed down from his mother and grandmother): he's no stranger to any of them. "I love cooking with whatever I find in the garden: blackcurrants, gooseberries, northern cherries… How lovely, at Christmas for example, to end the meal with a little hint of garden-picked cherries."
3. Low temperature cooking? Yes, but no…
"We have to stop trying to force the same cooking techniques on all products. Low temperature cooking might work well for a fillet of sole, for example, but is not at all suited to a beef in ale stew," he grins. For him, it is essential to choose the right cooking technique to bring out the best in each ingredient.
Every product needs to be worked with individually to really bring out the best in it. For example, "Asparagus can be cooked sous vide, but not cauliflower or beans."
For him, he works with cooking tables, with precise timings and techniques. "I cook pigeon for 2 hours 17 minutes at 53 degrees. Then I let it cool down to room temperature for 10 minutes, then it spends 10 minutes in cold water and finally 10 minutes on ice. It keeps the meat nice and juicy."
4. Don't forget the presentation
With a cellar stacked high with dishes, the Michelin starred chef cannot disguise his passion for beautiful tableware. "I have a genuine addiction to beautiful crockery. I just fall in love with it, I can't help myself, " he confesses. "I'm still a child at heart: I can be mesmerised by a beautiful plate, it's like a big, bright Christmas tree to me."
At Prieuré, meals are served on exquisite and tastefully chosen plates. The menu is carefully designed so that everything shines.
5. Being a good host: essential
To him, cooking is first and foremost a way of bringing happiness to others. "When people make the trip to see me (especially in this off the beaten track location), I want them to feel that we've been expecting them, that they are truly welcome. I want them to be properly greeted, get settled in and for them to feel a bit spoiled," he goes on to say.
Dining in a renowned restaurant isn't the sole guarantee of a top quality experience, according to him. A stuffy setting can sometimes weigh the ambiance down. "A successful evening is when nothing is missing, regardless of the complexity of the cooking."
The Michelin starred Prieuré Saint-Géry is therefore an unmissable stop in any visit to the Charleroi Metropolitan Area. The chef and his whole team will take care of every last detail, both on your plates as well as the welcome and service, to make sure that your evening with them is unforgettable.
Le Prieuré Saint-Géry in images: