Storytelling through the creation of bespoke jewellery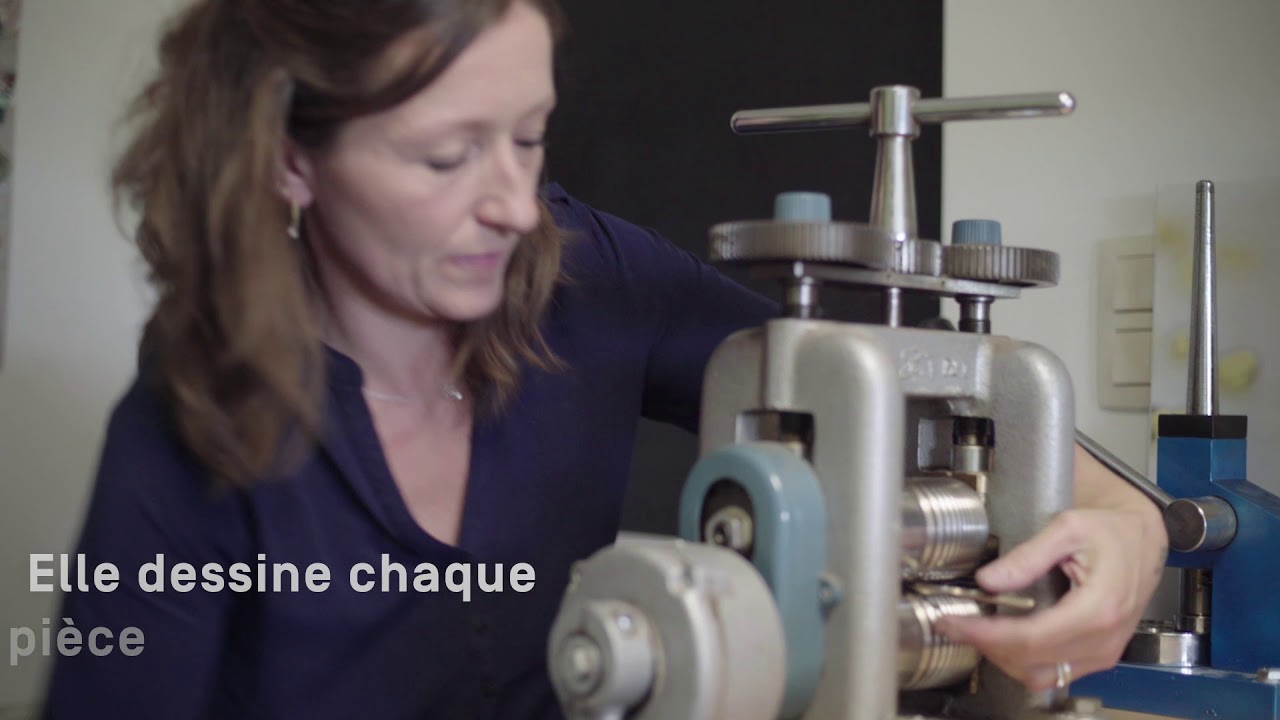 Géraldine Raulier, craft jeweller, creates unique and personalised jewellery, to reflect her customers' tastes.
"People often come to me with a very specific idea in mind. They want to honour a particular moment in their lives", explains Géraldine. "It might be a marriage, the passing of someone dear to them, a major life change… they are moments imbued with emotion. They want to capture the moment for posterity with an item of jewellery."
Creativity and conversation
Géraldine designs jewellery to reflect these special moments. During the process, she attaches a great deal of importance to talking and sharing ideas. "Customers come to me with their story, sometimes without knowing exactly what item of jewellery they are looking for. By talking to them, ideas start to flow. It truly is a collaborative process."
For example, for engagement rings, Géraldine asks the engaged couple about each partner's personality and their views on how symbolic the union is to them. She also asks them about what values are important to them, to find the right words for this important moment in their life, and she then translates them symbolically into jewellery.
From this discussion, several jewellery sketches will emerge, which Géraldine works on in her workshop overlooking the garden. "From here I can see the fields, the garden laid out according to permaculture, the woods… who could fail to be inspired?" she says with a smile. She draws her creativity from the customer's universe, but also from the nature surrounding her.
She will go back and forth with the customer on several occasions with the sketches she has made. Once they have decided on the design, the creator gets down to work on making the jewellery.
Gold passed down from generation to generation
The choice of materials, agreed beforehand with the customer, is also an important step in the creation.
9 out of 10 of Géraldine's creations are made out of gold. She sources her raw materials in an ethical way. Sometimes they come from old family heirloom jewellery or are repurposed, and this is actually Géraldine's preferred way of working. "I love working with a symbolic piece of jewellery that has been passed down from previous generations, for example. Customers have brought me their grandparents' wedding rings to have them made into their own," she explains. "Gold can be recycled an infinite number of times, it is a solid and sustainable material."
When she cannot find materials to be repurposed, Géraldine works with fair trade distribution channels. In particular she has joined a jewellery collective to set up Urcaguary Coop, so as to offer fair trade gold at acceptable prices.
Some of her jewellery is decorated with precious stones. "I suggest gemstones using the lithotherapy approach. I present to my customers the stone that best reflects their emotions when they come to see me."
Transforming raw materials
The next step is the actual crafting process. Géraldine makes herself comfortable behind her desk and gets to work on the materials. She melts the gold or silver, sets it, polishes it, soaks it, etc.
This work requires a great deal of concentration. "When I am in my workshop, I go into my own little world. I mustn't be disturbed. Having to be so precise helps me to concentrate, get into the zone. I find it extremely therapeutic."
The apotheosis: presenting the jewellery to the customer
Finally, the moment that everyone has been waiting for arrives: the time when Géraldine presents the finished item to the customer. "I find it hard to describe this particular exchange. When presenting the item, I really am becoming part of the history of this person, who I have spent hours working for. And the customer sees an important moment in his/her life materialise. It's quite a moment, with emotions running high; it truly is beautiful," she explains.
The reactions vary. Some cry, others are flabbergasted and all of them admire Géraldine's creativity. This moment creates a real bond between Géraldine and her client: "As the person is so much in my thoughts as I'm designing it, they will think of me when they wear it."
The process of selecting a craft jeweller gives a human dimension to jewellery-making.
Discover all of Géraldine's creations on Instagram.
Contact :
Géraldine Raulier
Trieu Colinot, 21
6560 Solre Sur Sambre
+32.(0)499.239.288
info@geraldineraulier.be
https://www.geraldineraulier.be/
©Video and images/Jérôme Gobin
Géraldine Raulier in images: